Das Modul Deferred Tax Management führt die Berechnungen für laufende Steuern, latente Steuern und Angaben zum IFRS Anhang durch.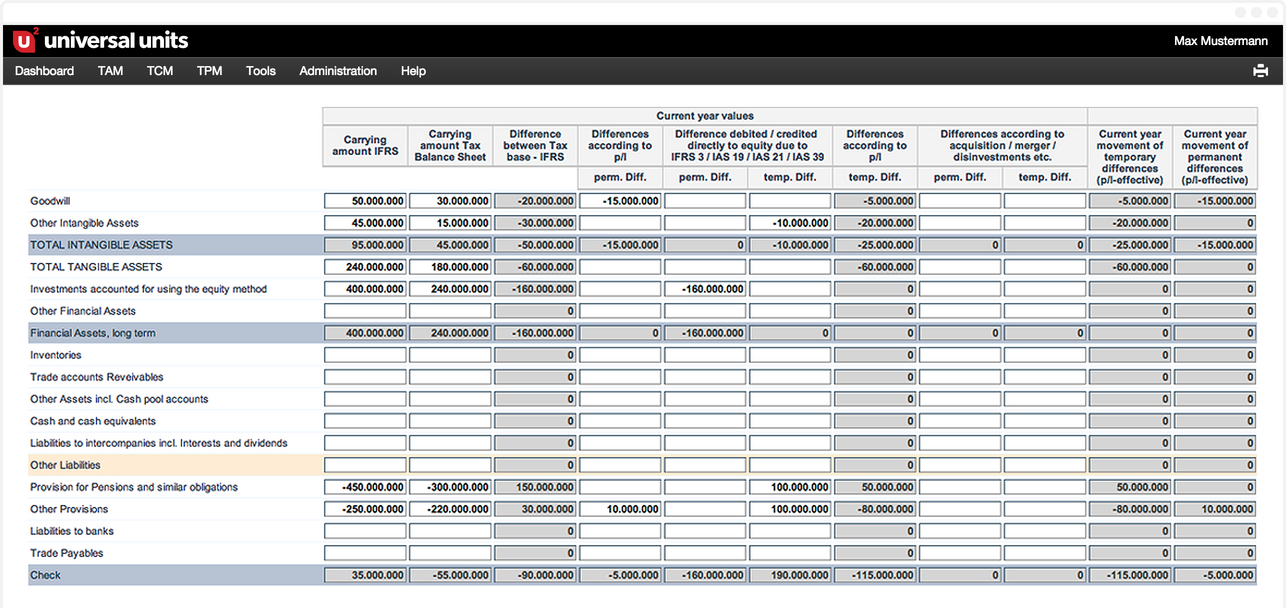 Für die Erfassung bzw. den Upload der HGB bzw. Steuerbilanzwerte stehen die folgenden Masken zur Verfügung:
Tax Rates
Balance Sheet Previous Year / True Up's
Balance Sheet Current Year
Corporation Tax Calculation
Local / State Tax Calculation
Current Tax Losses
Current Tax Positions
Adjustments on deferred taxes
Die Berechnungen werden direkt in den Masken durchgeführt und stehen über umfassende Auswertungen zur Verfügung:
Deferred Taxes according to the balance sheet
Income Tax Values (closing balance)
Effective Tax Rates Analysis (ETR)
Reconciliation
Funktionen.
Berechnung der laufenden Steuern, latenten Steuern und IFRS Anhangsangaben
Nachvollziehbarkeit der Berechnung durch Anzeige der Berechnungsformeln
Automatisches Netting auf Einzelgesellschafts- und Konzernebene
Statusmonitor
Dezentrale Erfassung und mehrstufige Überwachung
Import von IFRS und Steuerbilanzwerten als CSV Upload
Abbildung von Teilkonzernen, Organschaften, etc.
Konzernauswertungen mit Drill-Down bis zur Einzelgesellschaft